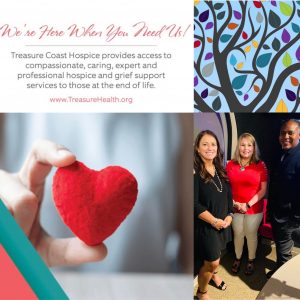 Quality Living, Quality Transition with Treasure Coast Hospice.
Maximum Health talks Hospice advancements, holistic care, pediatric, elderly hospice measures and family support services. We ask the hard questions and get answers with Jacki Nardone, LCSW
Director of Grief Support & Pediatric Services, April Price, RN, MSN, MBA, CHPN
VP of Clinical Operations
April Price, RN, MSN, MBA, CHPN
VP of Clinical Operations
April Price is an accomplished hospice nurse leader with 22 years of healthcare experience, ranging from direct patient care to executive-level leadership. April holds masters degrees in Nursing and Business Administration, both from Capella University. She also holds certifications from Cornell University in Change and Leadership Management. She is a Certified Hospice Palliative Nurse through the Hospice Palliative Nurses Association and a Certified Grief and Mourning Counselor through the American Institute of Healthcare Professionals.
An elected board member of the Hospice Palliative Credentialing Center, April works to further the Hospice and Palliative Nurses Association's mission to advance expert care in serious illness. April's management philosophy is to develop a warm, inclusive work environment that enhances each team member's experience in order to provide industry-leading compassionate care to terminally ill patients and their loved ones.
Outside of work, April enjoys antiquing and getting outdoors with her husband Paul. She has two adult children, a daughter who is a gifted photographer, and a son who flies Black Hawk helicopters in the US Army. She is the proud grandmother of three adorable grandbabies, who bring her endless joy.
Jacki Nardone, LCSW
Director of Grief Support & Pediatric Services
For more than 20 years, Jacki Nardone has worked with individuals and families as they cope with trauma, loss and grief. Her compassion is readily evident to those who seek counseling through Treasure Coast Hospice.
Jacki began her career at Treasure Coast Hospice as a Youth Counselor and Coordinator. She helped to expand the unique offerings that the organization makes available to children and teens who are coping with loss, and she assisted in the development of programs to support families who have lost children. She now heads a team of counselors who are available to the community for both individual and group counseling sessions.
A Licensed Clinical Social Worker in the state of Florida, Jacki holds a Master in Social Work from Barry University. She is a Diplomat of the American Academy of Experts in Traumatic Stress, is certified in Rapid Trauma Resolution, is a member of the Critical Incidence Stress Management Team, and holds the status of National Bereavement Facilitator Certification.
Podcast: Play in new window | Download